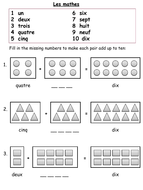 French numbers worksheets (basic)
Very basic French numbers worksheets (1-10 and 1-20) designed for primary, could be used for low ability KS3. Good as Starter or Plenary.
Other resources by this author
This resource, aimed at KS3 Spanish students, recaps the near future in the context of new year's resolutions. Introduces 12 new year's resolutions...
shropshire14
Lesson activities and worksheet about Easter vocabulary in French, made for Primary school level/low ability Key Stage 3. The resource includes a p...
shropshire14
A very simple presentation on animals in Spanish for primary. Includes a basic worksheet to label and colour.
shropshire14
Popular paid resources
This contains six differentiated board games for practising telling the time in French. Simply print which boards you wish to play with. Laminate o...
CrookedSteeple
A reading comprehension about the World Cup 2018 with questions in English - mainly a timetable of the fixtures - countries playing, where they are...
Moodymmai
These cut and paste worksheets focus on present tense conjugations of regular ER French verbs. These five printable black and white worksheets are ...
jenniferlcrespin
Updated resources
Learn as you teach KS2 Level 1 Primary French series empowering primary teachers and TAs teaching the 7-11 age range to both learn and teach alongs...
scwebster
Use this chatty mat to encourage your pupils to speak more French! Print off and laminate the mat, hand out to pupils or one to a table, and reward...
emmy91
KS3 French Studio 2 Vert Module 1 T'es branché Unit 5 Quand il fait beau , on va au parc. Titre: Quand il fait beau , on va au parc. L'objectif : T...
MagBB