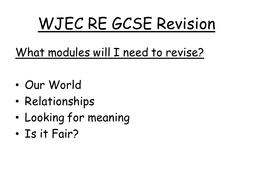 Full Paper 1 WJEC Revision
Our World, Relationships, Is it fair and Looking for meaning , board markscheme and various different text books to make sure that the pupils have more than enough to get top marks. I put the question up, get the pupils to tell me what they think the answer is, discuss it in relation to the mark scheme and what they already know and then give them the answer to write down in their books. I then set a hw for them to learn them off by heart and then test them the next lesson - although they moan, they actually like receiving grades! Hope this helps you. Please leave a comment.
Read more
Report a problem
Creative Commons "Sharealike"