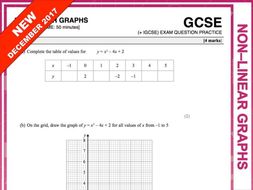 GCSE 9-1 Exam Question Practice (Non-linear Graphs)
This carefully selected compilation of exam questions has fully-worked solutions designed for students to go through at home. This can save a lot of valuable time in class.
Click -->https://tes.com/.../Exam Question Practice to download question compilations on 40 other topics.
---
These 'booklets' cover the full range of skills expected at GCSE for each topic. The questions in this particular compilation require students to work out coordinates and draw graphs of quadratics, cubics and functions with a negative power of x.

I usually print these questions as an A5 booklet and issue them in class or give them out as a homework. I also make them available for a student who wants to do independent study.
About this resource
Info
Created: Dec 1, 2017
Updated: Apr 19, 2018