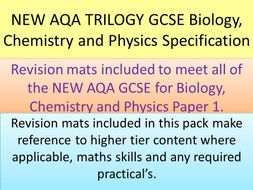 NEW AQA 2016 GCSE Trilogy reivison mats for Biology, Chemistry and Physics paper 1
Revision mats for Paper 1 Biology, Chemistry and Physics exams for AQA Trilogy.
The revision mats cover all higher tier contented as highlighted by HIGHER TIER in bold next to the relevant text box. Maths skills and required practicals are also included where possible. Place mats are broken down into topic areas within the whole unit so you can chose which area to focus on.
Biology:
Cell biology
Photosynthesis
Moving and changing material
Health matters
Chemistry:
Atomic structure and the periodic table
Structure, bonding and the properties of matter
Chemical quantities and calculations
Chemical change
Energy changes
Physics:
Energy
Electricity
Particle model of matter
Atomic structure
Read more
About this resource
Info
Created: Apr 15, 2018