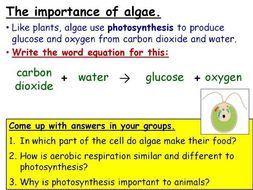 Protoctists Year 8 Lesson PowerPoint + Extensions (KS3 8Dd) Algae Unicellular Organisms topic
Full lesson PowerPoint sufficient to teach a broad range of abilities about protoctists and their cellular features, with a focus on the importance of algae. The lesson is in keeping with the current KS3 UK National Curriculum, is easily accessible for students and simple to follow for teachers.
Also included is an ICT extension task summarising the impact that fungi, bacteria and protoctists can have on human health. I have used this previously for a full additional lesson of consolidation while delivering the unicellular organisms topic.
Read more