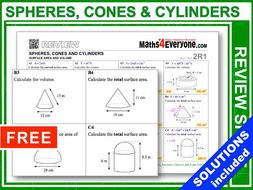 TES PICKS
Spheres, Cones & Cylinders (GCSE Topic Review)
This worksheet is great for students to revise calculating Surface Areas and Volumes for Spheres, Cones and Cylinders.
Click 👉 Tes.com/.../Topic Reviews… for more than 40 similar style-review sheets including the worksheet 'Spheres, Cones and Cylinders: Working Backwards' - it has some excellent questions and will challenge even the most able students!
--
These sheets are great to use in class or as a homework. They are also excellent for one-to-one tuition and for interventions.
Solutions are included.
Read more