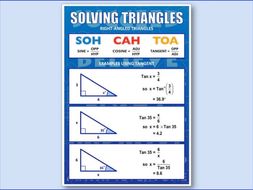 Trigonometry, SOH CAH TOA (Poster)
This is my poster for SOH CAH TOA, which shows all three types of calculations for this topic. I give students the A5 version for revision and have a large version on the wall somewhere.
Click 👉www.tes.com/.../more-posters... to see my other posters, which are also available for free.
Read more