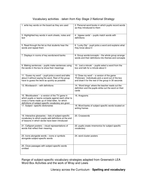 Vocabulary activities
Activities to support vocabulary development
About this resource
Info
Created: Jun 15, 2010
Updated: Jul 11, 2013
Other resources by this author
Study skills, advice and classroom management suggestions for working with pupils with Aspergers Syndrome
makesensetraining
Updated resources
Two secondary schools in Wiltshire teach emotional intelligence at KS3 and KS4. The Corsham School, a Specialist Visual Arts College, has a broadly...
Teachers TV
A website full of sensory stories and resources particularly useful for secondary age people with SLD and PMLD. Pete's sensory stories tend appeal ...
dzil
A 'one-side-of-A4' guide, with a description of Attention Deficit Hyperactivity Disorder (ADHD) and classroom strategies, designed for secondary sc...
Dodros