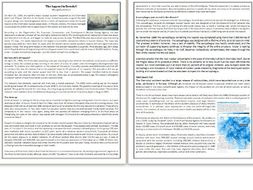 What happened in Chernobyl - Reading Comprehension Text #GoogleExpeditions
This Reading Comprehension worksheet is suitable for upper intermediate to proficient ESL learners. The text gives an account of all the tragic events that took place during the 1986 Chernobyl nuclear accident.
After carefully reading the text, students are required to complete some comprehension exercises including: True or False exercises, a definitions match exercise, a fill-in-the-gaps exercise, a fun crossword and engage in an in class discussion over nuclear energy, radiation and it's effects on human health. The vocabulary used in the text is rather advanced and can also be used for IGCSE, TOEFL or IELTS vocabulary building purposes. The handout can be completed in class or assigned for homework. Ideally, this handout could be used along a #GoogleExpeditions NASA virtual reality trip! A full answer key is included.
Read more