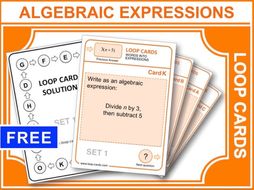 TES PICKS
Writing Algebraic Expressions (Loop Cards)
This activity gets students to translate a worded sentence into an algebraic expression. Like the look of this?
Click --> https://tes.com/.../30-more-loop-card-topics.
--
Further information:
In this download there are four sets of similar cards and a student chooses one of the sets and sorts them into order by answering the questions. Then they try to do it faster using a different set, which has the same questions, but a different sort order 😃
The cards can either be used by individuals, pairs or small groups. My favourite use is for two students to have different versions of the cards and race each other. They then check their answers, shuffle, swap packs and race again (quickest overall time wins!)

Cut out card size is approx. 65 x 90 mm.
About this resource
Info
Created: Dec 31, 2017
Updated: May 25, 2018
Other resources by this author
Revision for GCSE. This carefully selected compilation of revision questions has fully-worked solutions designed for students to go through at home...
Maths4Everyone
My students have always loved these summary booklets. This series of booklets, which I am starting to upload, have definitely had a massive impact ...
Maths4Everyone
This carefully selected compilation of exam questions has fully-worked solutions designed for students to go through at home, saving valuable time ...
Maths4Everyone
Popular paid resources
A self-contained game to be played in pairs. Use to revise reading coordinates on a grid. Best played once coordinates have already been introduced...
Miss-Becky
Recommended by TES Panel. An investigation which allows the learners to find the rules for transformations plus some example questions. PLEASE REVI...
kmbheck
2018 VERSION NOW AVAILABLE HERE! (copy and paste link) https://www.tes.com/teaching-resource/new-2018-ks2-sats-revision-ultimate-3-in-1-maths-organ...
ambowers2
Updated resources
Seven worksheets on simplifying expressions with indices. A practice on laws of indices, negative and fractional indices. Good for GCSE/IGCSE stude...
math_w
This resource has been designed for week 12 of the summer term to consolidate the work undertaken in the White Rose Maths Scheme, small steps Year ...
Krazikas
This activity requires students to rearrange various equations into the form y = mx + c and then deduce the gradient and the intercept. Like the lo...
Maths4Everyone