Straight to Teaching
Grow your own qualified teachers
A cost-effective, online and in-school programme to prepare your staff for QTS assessment while they continue to work at your school.
Grow your own qualified teachers
Straight to Teaching can help your school:
Grow your own qualified teachers

Deliver learning tailored to your staff's needs

Retain staff who might otherwise leave your school to train elsewhere

Free up experienced staff to take on extra responsibilities such as SLT
Develop talented teaching staff
Finding staff that support your school's mission, vision and values can be challenging, especially with the current teacher recruitment crisis. However, you may already have outstanding staff, such as TAs, working within your school, and Straight to Teaching can help you to develop those talented individuals into qualified teachers.
The Straight to Teaching programme supports your trusted TAs and unqualified teachers to develop their teaching skills through a bespoke preparation plan based on their existing teaching experience. Once they've gained the equivalent of two years' teaching experience and can demonstrate that they meet the Teachers' Standards and Assessment Only criteria, they'll be recommended for QTS assessment. So you can help them to take their next step, retain great staff and increase the number of qualified teachers in your school.
Tailored to your school setting and staff experience
Our unique programme ranges from one to five terms and is available in all school settings including primary, secondary, mainstream, SEND, alternative provision, independent and boarding schools.
We'll tailor the programme to your staff's existing teaching experience and they'll have the opportunity to develop their skills and career while they continue to work at your school.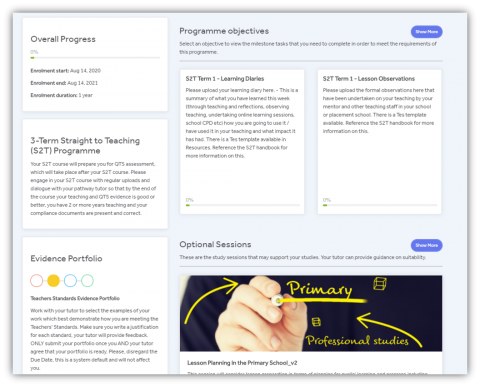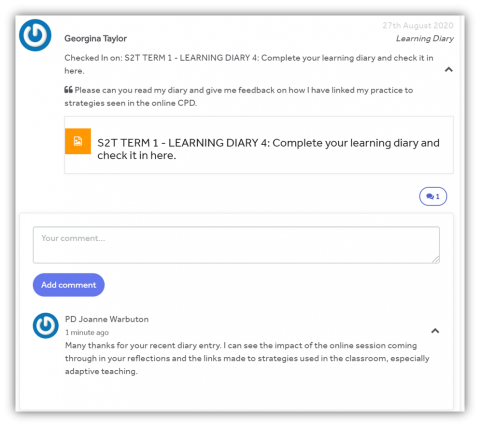 Retain talented teachers
Throughout the programme, your staff will receive in school and online support from an experienced pathway tutor with termly lesson observations and regular online support. They'll also be supported by a mentor from your school, who'll work with the pathway tutor.
With course fees starting at £4,500 (plus VAT*) including QTS assessment, Straight to Teaching often costs less than traditional teacher training and is designed to work alongside any existing initial teacher training and development that you offer.
*Subject to exceptions, VAT will be charged at the rate of 20 per cent.
Entry criteria for your staff
To join our programme your staff will need to hold a degree or be in the final six months of completing one. They'll also need a grade C/4 or above at GCSE level in English language and mathematics (plus grade C/4 at GCSE level science if teaching ages 3-11), although equivalency tests can be sat during the course. They'll need access to a teaching timetable of at least 50% of a typical teacher at your school and have the support of a school-based mentor.
By the end of their programme they'll need to be teaching up to 80% of a full timetable.
Have staff who might be interested?
Recommend Straight to Teaching to your staff using our nomination form. We'll send them the application link and ask for further information about their teaching experience. 
Once this is completed we can then estimate an appropriate programme length. 
Thoughts from our schools
Straight to Teaching has had an outstanding impact on our school. We have the securest and strongest staffing structure that we have ever had.

Source: case study
The programme is extremely thorough and covers every aspect of what teaching in a school entails... It enables the learner to personalise their programme and develop their own skills to become the teacher they want to be.

Source: case study
Get in touch
Want to find out more about our Straight to Teaching programme? Fill in our short enquiry form and get tailored advice from the Tes Institute team today. Alternatively, call +44(0)203 194 3200 or email institute@tesglobal.com.
Latest news and guidance for retention and development
Discover more about Tes Institute
Tes Institute is an accredited Initial Teacher Training provider and has qualified more than 2,000 teachers in over 800 schools.