Applicant tracking system
Simplify your recruitment admin
Our in-built system will support you through every stage of your recruitment journey, from receiving applications and shortlisting to requesting references and making your final decision
Simplify your recruitment admin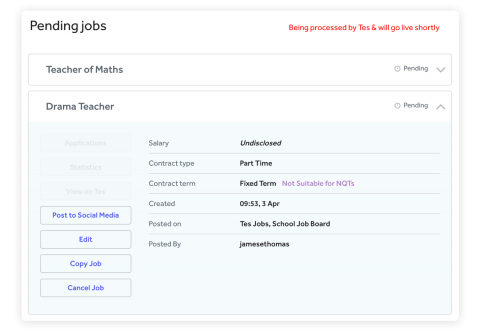 The full process in one place
Recruiting staff can be time consuming, especially when there are several different processes involved that may rely on different systems. Tes Portal's built-in, centralised Applicant Tracking System (ATS) is designed to support you at every stage of the recruitment journey and helps you to maintain high levels of security and transparency with applicants as required under GDPR.
You can also create a career site for your school which is a customisable page to promote your school's vacancies, culture and ethos. It's a great place to send candidates to find out more about your school.
Job posting and application process made simple
With our ATS you can quickly and easily create and share your job adverts, and save time by posting multiple adverts in just a few clicks. 
You can also speed up the application process and receive more applications using the customisable online application form. Schools using our online application form receive double* the amount of applications compared with those that don't.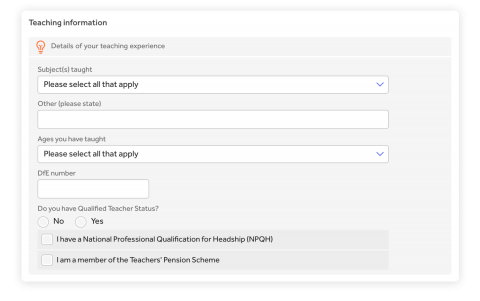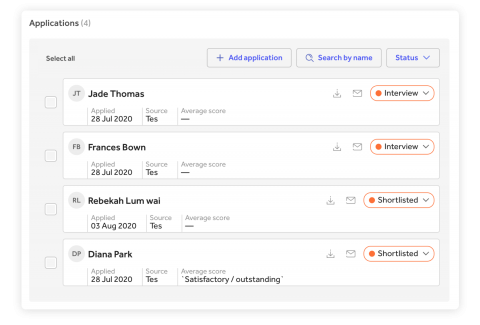 Reviewing applicants
To make reviewing and responding to applicants simple, you can email applicants directly from within the ATS and easily keep track of all communication in one place. You can also apply a status to applicants you have spoken to and shortlisted.
Our interview scorecard enables you and your team to follow a standardised approach that ensures a fair and documented interview and recruitment process.
Plus you can use automatic reminders and validated forms to receive a quicker response to reference requests. The online reference requests form uses automatic reminders and validated forms to ensure you get a 75% response rate in three days, and a 95% response rate in seven days.*
Tes allows us to advertise on a global scale and secure applications from the very highest quality teachers. Having the facility to manage our own advertisements allows the flexibility that we need in an outstanding British international school.

Source: email feedback March 2020
Get in touch
Want to find out more about our Applicant Tracking System? Fill in our short enquiry form and we'll be in touch. Alternatively, you can email us at recruitment@tesglobal.com or call us on +44 203 194 3050
Tips and guidance to support schools
We've gathered together top tips, guidance and support for job posting and applicant tracking, as well as product demos and developments from our team in these helpful resources for schools.
*Average response rate based on Tes internal database.