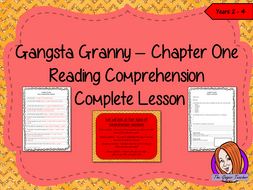 Reading Comprehension Complete Lesson – Gangsta Granny
Complete Lesson on Comprehension Related to Gangsta Granny by David Walliams

This download includes a complete comprehension lesson on the first chapter of the book Gangsta Granny by David Walliams. Children will read and discuss the chapter. There is a PowerPoint to explain comprehension to the class and some sample questions to practice together, before they try to answer comprehension questions independently. There is also a short chapter summary sheet for children to complete to reflect on the chapter read. You will need a copy of the book Gangsta Granny; everything else needed is included in this download. Please note the page numbers referenced refer to the paperback version, although the page needed is indicated as clearly as possible to avoid any confusion.

This download includes:
- Full and detailed lesson plan
- PowerPoint slides for the lesson
- Question sheets (4 full pages)
- Complete answer keys
- Chapter review sheets

Thanks for looking.
Please remember to leave feedback, for updates and promotions you can also follow me here

*****************************************************************************
Some of my other products:

Big Science Bundle Pack
Complete Space and the Solar System Workbook
Complete Dialogues and Play Scripts Writing Unit

*****************************************************************************
About this resource
Info
Created: Jul 10, 2017
Updated: Feb 22, 2018
By adding a School licence it allows you to share this resource with colleagues at your school. Without it, this resource is licensed for use only by you. Read licence details
Other resources by this author
<strong>Scientists and Inventors - Benjamin Franklin PowerPoint and Worksheets </strong> From my Scientists and Inventors resources col...
TheGingerTeacher
**Scientists and Inventors - Steve Jobs PowerPoint and Worksheets ** From my Scientists and Inventors resources collection – Let's learn about Stev...
TheGingerTeacher
<strong>Veterinary Clinic Role Play Area - 25 Fun Vet Printables </strong> Make your role play area into an animal hospital! This downl...
TheGingerTeacher
Popular paid resources
10 fully resourced lessons to prepare students for the AQA English Language Paper 2, Section A exam: 'Writer's Viewpoints and Perspectives'. This r...
RojoResources
Resources to introduce dystopian/post-apocalyptic literature conventions to AS students, but also suitable for GCSE or KS3 students. Designed to le...
archev
These 'Library Challenge' cards were made for my class library, but they could be used in a school library as well. The idea was just to get the ch...
sh2810
New resources
This engaging and informative lesson enables students to make detailed and precise interpretations of the character of Abel Magwitch in Great Expec...
TandLGuru
Poster title for my wall of 'amazing adjectives' for Year 2's to use in their English lessons. Also helps introduce alliteration!
laylala
Updated resources
This is a simple, illustrated frame for poetry-writing (or general descriptive writing), for beginner-writers, with jungle animals as the theme. Th...
katewilliams_poetry
Story mountain planners, differentiated for higher, middle and lower ability.
AimeeM1993
This hand-drawn butterfly picture-poem is a Literature resource for young children. Its opening phrase invites describing words for butterflies, wh...
katewilliams_poetry