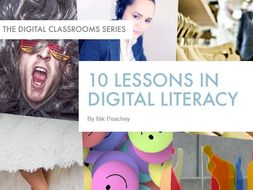 10 Lessons in Digital Literacy
This e-booklet contains a collection of ten lesson plans to help you develop students' digital literacies and critical thinking skills. Based around authentic infographics the lessons start by using discussion to help students access what they already know about the topics and then move on to comprehension and a range of tasks that help students to explore the validity and authenticity of the information they find. They finish with structured research and presentation tasks that encourage students to work collaboratively and share what they have learned.

The lessons progress through a range of tasks that engage student's interest, encourage them to:
-: interact and share what they know
-: develop their abilities to extract information from text and graphics
-: view information critically
-: check the credibility and validity of information
-: develop online research skills
-: use web based tools to create surveys and data visualisations

The lessons cover a range of topics including:
-: Advertising and how it influences us
-: Body language and how to understand it
-: Introverts and extroverts and how they differ
-: Emotional intelligence and how it impacts on our relationships
-: Facts about hair
-: Happiness and what effects it
-: Developing study skills
-: The environment and waste caused by clothes manufacturing
-: Daily habits of the world's wealthiest people
-: The history of marriage and weddings

Each lesson includes:
-: A step by step teachers guide with advice and answer key
-: Worksheets to print for students

About this resource
Info
Created: Mar 1, 2016
Updated: Feb 22, 2018
By adding a School licence it allows you to share this resource with colleagues at your school. Without it, this resource is licensed for use only by you. Read licence details
Other resources by this author
This lesson is based on an infographic about happiness and the factors that effect our happiness.In the lesson students will explore their views of...
nikpeachey
In this second version of the Trainers' Edition of Digital Tools for Teachers I have built on the original volume of Digital Tools for Teachers by ...
nikpeachey
This lesson plan is based on an infographic that reports on a survey into advertising, people's attitudes to it and how it influences them. Aims: T...
nikpeachey
Popular paid resources
Normally £39.99 ($55) this month you can download The Ultimate P4C Resource Pack for just £4 (less than $6!). This is a one time opportunity to sav...
godwin86
These templates are quick and easy for you to use and fully editable. Suitable for small / medium size businesses and sole traders. Includes: Proje...
Resource_Creator
Separate resources that can be used as icebreakers, warmers, parts of lessons, and in some cases whole lessons. Developed for Adults. Business emai...
Resource_Creator
Updated resources
The aims of this unit are: To reflect about the pros and cons of internet. To critically assess web pages. To give advice about safe surfing. To le...
MariangelC
This resource includes the project handout for students and the teacher's notes to work during a minimum of a month (depending on the number of les...
MariangelC
An easy to use reading comprehension pack with three sections of differentiated questions. This activity focuses on the rise of the online trolls a...
Lead_Practitioner