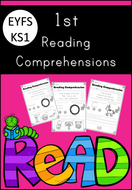 1st Reading Comprehensions for EYFS/KS1
This pack includes 15 1st reading comprehensions. Questions are mainly focused on recalling information directly from the text.
You can 'print and go', there's no prep required at all. You can use these as regular printables, early finisher worksheets and/or as a whole group, small group, ESL, individual work and/or for SEN students.
Each reading passage focuses on Comprehension, Vocabulary and Writing.
This is a perfect starter pack for those emergent readers to tackle Comprehensions.
NOW ALSO INCLUDES
2 BONUS CHRISTMAS THEMED COMPREHENSIONS
Check out the preview!
Read more