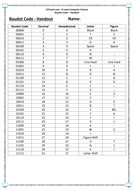 A-Level Computer Science - Baudot Code - Handout
This resource is aimed at students looking at Encryption methods, specifically the Vernam Cipher. This is a copy of Baudot code that students would need to use to carry out the logical XOR with their keyword to produce the cipher text for their encrypted message.

Whilst they are not required to know Baudot code, being able to more easily recognise this in preparation for their exam is useful.
Read more
About this resource
Info
Created: Jul 12, 2017
Updated: Feb 22, 2018