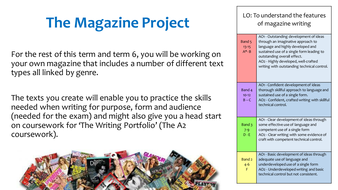 TES PICKS
A-Level Creative Writing - Magazine Project
Made for KS5 Creative Writing, but can very easily be adapted to all year groups.

With analysis of the language and presentational features of non-fiction texts, students also complete their own in each form:
- Interview
- Advert
- Review
- Argue a current issue
- Agony Aunt Page
- Front Cover
- Analytical commentary on all
-
About this resource
Info
Created: May 30, 2016
Updated: Feb 22, 2018
Popular paid resources
10 fully resourced lessons to prepare students for the AQA English Language Paper 2, Section A exam: 'Writer's Viewpoints and Perspectives'. This r...
RojoResources
These 'Library Challenge' cards were made for my class library, but they could be used in a school library as well. The idea was just to get the ch...
sh2810
A complete 12 week scheme of work that is fully resourced and differentiated. Contains powerpoint lessons, medium term plan, text extracts and samp...
stebbingk05
New resources
Three writing resources based around the truce in the trenches.
15step
Over 100 plenary ideas - make each lesson fun and varied with over 100 different ideas for plenaries, assessment activities and ways to sum up or e...
lordturner
Updated resources
For the post Mocks period. This sheet can be used as an in-class self assessment after a mock of AQA's "Paper 1: Explorations in creative reading a...
chirpyandcheerful
Writing frames and PowerPoints for non-fiction creative writing for year 8 English.
vinnythomas2502
Introduction Persuasive Writing PowerPoint scheme of work and supporting resources for mid ability year 8 class.
vinnythomas2502