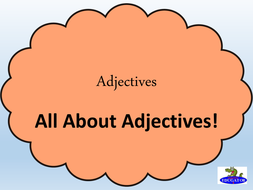 Adjectives PowerPoint - All About Adjectives
Adjectives. All about Adjectives. Defines adjectives. Information, notes, and practice slides on Descriptive Adjectives, Limiting Adjectives, Proper Adjectives, Nouns used as adjectives, Indefinite articles, Definite articles, Participles used as adjectives, Adjectives and Indefinite Pronouns, Adjectives and Demonstrative Pronouns, Predicate adjectives. Each section of this PowerPoint has a practice slide and an answer slide. Use each section as you need it. Great for review of a parts of speech unit at the beginning of the year. Also use for warm ups, or for notes in interactive notebooks. - HappyEdugator

©2016 HappyEdugator.
Read more