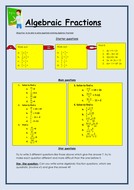 Algebraic fractions Handout
A handout with algebraic fractions.
Read more
About this resource
Info
Created: Aug 20, 2011
Updated: Aug 19, 2015
This resource is designed for US teachers. View UK version .
Other resources by this author
A collection of multiple choice quizzes. Cover most KS3 and KS4 topics. Good for revision or to be chopped up and used as starters or plenaries in ...
bcooper87
A PowerPoint Activity on sharing in ratios, in particular finding an unknown amount, e.g how much water do you need if water and squash are mixed i...
bcooper87
A scheme of work i made based on OCRs specification, designed for our students who won't be entered for GCSE maths. The course is designed to be co...
bcooper87
Popular paid resources
A self-contained game to be played in pairs. Use to revise reading coordinates on a grid. Best played once coordinates have already been introduced...
Miss-Becky
Recommended by TES Panel. An investigation which allows the learners to find the rules for transformations plus some example questions. PLEASE REVI...
kmbheck
Recommended by TES. There are 4 sets of questions (Number, Algebra, Shape, Data) which are mainly A and A* (with some lower grade questions from to...
kmbheck
Updated resources
4 Extensive worksheets on all that you will need on sequences up to GCSE level. LINEAR SEQUENCES 1 - 10 questions on arithmetic progressions, the n...
happymathematician
Two worksheets, which can be used to teach students about representing inequalities on number lines. The worksheets are at slightly different diffi...
Maths4Everyone
A worksheet helping students to review their understanding on substitution into formulae. Questions include multiple variables and cover the full r...
Maths4Everyone