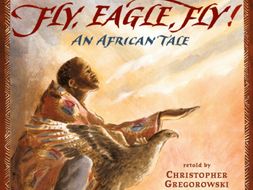 Alternative Ending (3 weeks) unit based on 'Fly Eagle Fly' by Christopher Gregorowski
This is a 3 week unit of planning that supports pupils to write an alternative ending to an African folk tale about an eagle that thinks it is a chicken. The book is 'Fly Eagle Fly' by Christopher Gregorowski who was inspired to retell the story after his daughter became very ill. The theme of the book is about unlocking the potential in all and pupils I have used it with have always loved it. It is set in the country side of Ghana and has wonderful illustrations by Niki Daly. This is an important tale and the book has a foreword by Archbishop Desmond Tutu.

I have listed the learning objectives for all of the lessons below. Also I have included all of the worksheets, PowerPoints, links and resources you will need to teach this unit straight away.

Stage 1- Stimulate & Generate learning outcomes
• To write expanded noun phrases
• To find the meaning of words
• To understand themes in a book
• To draw inferences from the text
• To discuss philosophical ideas
• To take notes to summarise details

Stage 2 - Capture, Sift & Sort learning outcomes
• To find the key features of descriptive writing
• To use a fronted adverbial to explain how, when or where something took place.
• To write expanded noun phrases
• To write a descriptive setting
• To use and punctuate direct speech
• To use different conjunctions

Stage 3 - Create, Refine & Evaluate learning outcomes
• To plan an alternative ending
• To revise, edit evaluate and improve my writing
• To write an alternative ending in the style of another author x 2 lessons

Stimulate and generate = This usually starts with a hook to interest the class where the class realise who they are going to write for so they have a clear purpose and audience. Activities can include reading excellent model texts, drama or researching more about the author or the content of the book.

Capture, sift and sort = This is the part of the unit where pupils look at key features, practise skills they will need in order to complete the final piece or new learning for objectives they have not learnt yet.

Create, refine, evaluate = This is where you bring all you have learnt together and plan the final piece before you write it and then edit it to improve the piece. This can include self, peer or teacher led reviewing.
Read more
About this resource
Info
Created: May 27, 2017
Updated: Feb 22, 2018
Get this resource as part of a bundle and save up to 33%