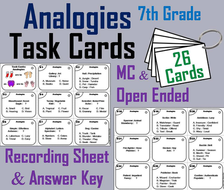 Analogies Task Cards for 7th Grade
Analogies: These task cards are a great way for students to have fun while they practice comparing two things through the use of analogies

This activity has students practice 26 analogies which use words appropriate for the Seventh grade level. Students are given multiple choice options, as well as a version without multiple choice. Answers with explanations are included.
Read more