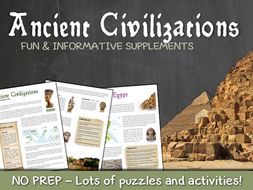 Ancient Civilizations
Let's learn about Ancient Civilizations!

This worksheet includes 28 pages with a great variety of activities and exercises about Ancient Civilizations. The materials have informative exercises about the great civilizations of human history, such as Ancient Egypt, Indus Valley Civilization, Ancient Greece, Babylonian Empire, the Mayans, Ancient Rome, the Persian Empire and many others! Crosswords, word searches, puzzles and other kinds of activities are included to make it a fun and interesting class. The answers and answer sheets are included.

Overview:
Page 1/2: Introduction to Ancient Civilizations
Page 3/4: Ancient Egypt
Page 5/6: Indus Valley Civilization
Page 7/8: Ancient Greece
Page 9/10: Ancient China
Page 11: Babylonian Empire
Page 12/13: The Mayans
Page 14/15: Persian Empire
Page 16/17/18: Ancient Rome
Page 19/20: Byzantine Empire
Page 21/22: Inca Empire
Page 23/24: Ottoman Empire
Page 25/26: The Aztecs
Page 27/28: Revision

You might also like these worksheets:
Wonders of the World
The Middle East
Religions
China
Egypt
Italy
Greece

Keywords:
Ancient Civilizations, empire, Mesopotamia, Egypt, Pharaoh, Pyramids, the Nile, Indus Valley Civilization, Indus River, Ancient Greece, Athens, Alexander the Great, City States, Ancient China, Dynasties, Emperor, Babylon, the Mayans, Mexico, Chichen Itza, Persian Empire, Ancient Rome, Roman Empire, Julius Caesar, Byzantine Empire, Constantine I, Justinian, Incan Empire, Peru, Ottoman Empire, Turkey, Sultan, the Aztecs.
Read more