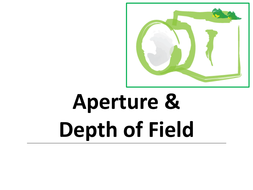 Aperture and Depth of Field
A tutorial about the relation between Depth of Field and Aperture settings. This Powerpoint defines Depth of Field, covers the mechanics in the lens when the Aperture is changed and how to control it on the camera.
About this resource
Info
Created: Feb 20, 2012
Updated: Aug 19, 2015
This resource is designed for US teachers. View UK version .
Categories & Grades
Other resources by this author
Intro to Hockney's photographic collages and tasks to complete in lesson to create own collages.
lilbit924
This powerpoint is teaching students the parts of a DSLR Camera. The Camera used in the images is a Canon 1000D. This can be easily swapped out for...
lilbit924
This is an introduction powerpoint for a personal exploration project on the theme of "Contrast."
lilbit924
Popular paid resources
Sock Monkey Soft Toy - Full lesson by lesson scheme of work & lesson powerpoint key stage 3 project The project transforms recycled socks into ...
merk90
Powerpoint showing several photos of Roman shields that I made leading into an activity where children design their own Roman shield based on certa...
dave_orritt
The Russia Football World cup is nearly here. Engage students with the FIFA Russia World Cup with these 5 colouring sheets. Students can decide whi...
StartEducation
Updated resources
Year 12 Mini Photography Projects This was very successful as students had very little time to waste and kept them focused to ensure the quality of...
khussain83
Currently working on Architecture with our year 9 so heres a tutorial I did with them and the final outcome was a success. It was challenging but t...
khussain83