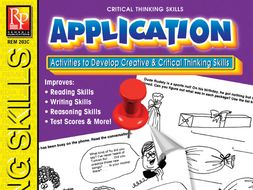 Application: Critical Thinking Skills
Applying information. "Application" is the use of information that is recalled and understood. When students use acquired facts and skills in a new situation, they are practicing the transfer of solutions from one problem to another.

The 26 lessons in this unit provide plenty of practice in applying knowledge to practical situations. Students are asked to do alphabetical ordering, work with dictionary definitions, sequence time/size/money, compare shapes, finish sentences, and more using information provided or recalled.

Read more
Get this resource as part of a bundle and save up to 25%