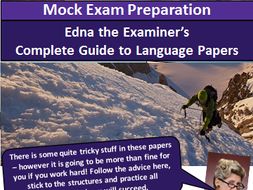 TES PICKS
AQA English Language GCSE complete guide - Paper 1 and 2.
This 48 page activity workbook includes everything a student will need to know for both papers of the AQA English Language GCSE. It gives overviews of the whole exams, with advice regarding timing and approaches. For all questions in both papers, it includes key information and strategies students need to know, and smaller tasks where appropriate to support students with their planning. There are annotated model examples and paragraph structures for each task, and practice questions with space for them to be completed. The texts are all linked to the theme of extreme weather, with a narrative extract from 'Blood on Snow' for paper 1, and non-fiction extracts from Captain Scott's diary (1912) and Simpson's account of his mountaineering disaster (1988

This could be ideal as a revision workbook or a resource for a unit of lessons.
Read more