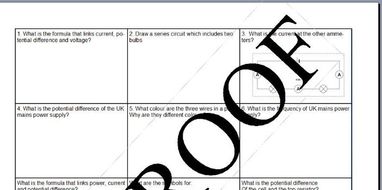 AQA GCSE New Spec Electricity Revision Mat
Suitable for GCSE AQA Trilogy and Physics pupils
Read more
About this resource
Info
Created: Oct 13, 2017
Updated: Nov 21, 2017
Other resources by this author
Formula revision cards for helping students learn the GSCE Physics formulas. these can be used as a card sort to help pupils match units, names and...
kitalderson
This is a revision worksheet on Specific Heat Capacity as featured in the new AQA Specification (first examined 2018) which includes AT1 and AT5 qu...
kitalderson
There are two revision mats for this resource, one is the basic Trilogy content and the other includes all of the extra Physics bits. I'd advise if...
kitalderson
Popular paid resources
**This resource has been recommended by the TES Resource Team** *UPDATED AUGUST 2017* Added a crossword puzzle with answers. This resource pack wil...
sciencecorner
Revision booklet contains: Checklist to RAG rate learning Key Topics Covered include: The Body Diet and Lifestyle Particle Model Periodic Table Ene...
stargazerchick
In this lesson students complete a whole school lighting audit with the aim of de-lamping classrooms. Students use a lux meter to identify over-lit...
TheTeachersFriend
Updated resources
This is a quiz i have made and used with year 7 through to year 11 and the students love it! Half the rounds are science related (periodic table, b...
smudge704
Includes Forces, Waves, Magnetism and Electromagnetism and Space Physics
mrspearson
Simple practical to calculate kinetic energy of a person lifting weights, can be used to investigate either mass or velocity. Was created for and u...
gwynngwynn