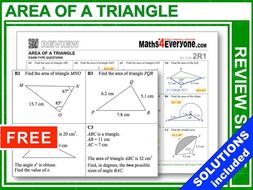 Area of a Triangle (GCSE Revision)
This worksheet is really good for revising Area of a Triangle (using the sine of an angle). The questions cover the full range of skills tested in GCSE and IGCSE papers. Includes 'working backwards' questions.
Click --> https://tes.com/.../Revision to see the list of GCSE Revision Sheets on other topics.
---
These sheets are great to use in class or as a homework. They are also excellent for one-to-one tuition and for interventions.
Solutions are included.
Read more