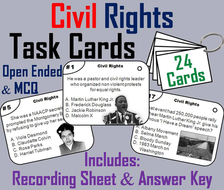 Civil Rights Task Cards
These task cards are a great way for students to learn about the major historical figures and events during the Civil Rights Movement.

This product contains 24 cards with multiple choice questions about the major events and famous figures during the civil rights movement. A recording sheet and an answer key are included. Blank cards are also included for questions to be added, if wanted. The same 24 cards are also available in a non-multiple choice option as well.
Read more