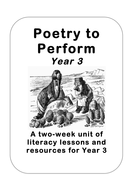 TES PICKS
Classic Performance Poetry Unit - Lewis Carroll (2nd/3rd Grade)
Performing Classic Poetry

Lewis Carroll - 2 week unit



A two-week literacy unit of work for 2nd/3rd Grade, containing lesson plans and pupil resources, looking at some of Carroll's funny poems and nonesense verses including the famous 'Jabberwocky'. In these lessons pupils will:



- read and listen to classic poems by Lewis Carroll

- use comprehension skills to tackle nonesense poetry

- engage imaginatively with classic narrative poems

- create their own Jabberwock creatures

- write their own versions of the poems

- make props for a dramatic performance

- prepare and give a performance to an audience





The poems include 'The Walrus and the Carpenter', 'A Strange Wild Song' and 'Jabberwocky'.
Read more
This resource is designed for US teachers. View UK version .