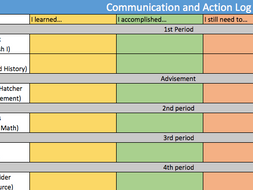 Communication and Action Log
Do you have a student with poor self-initiation and self-advocacy skills? Then give this form a try! This is a simple spreadsheet that contains spaces for the student's daily schedule, as well as columns for 'I accomplished...,' 'I still need to...,' and 'I need support with.'

This can be a manual handwriting task for the student, but it functions very well as a communal document that the student, parent/guardians, and all teachers can access throughout the day and week.
Read more