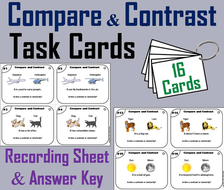 Compare and Contrast Task Cards
These task cards are a great way for students to have fun while they practice their comparing and contrasting skills.

This activity has students reading a descriptive sentence referring to either one object or both and then determining if it is a contrast or similarity. Students may record their answers on the provided answer sheet. An answer key is also included.
Read more