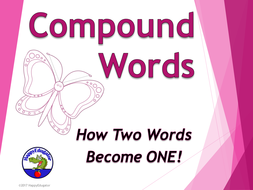 Compound Words PowerPoint
Study more in depth about compound words with this fully animated PowerPoint that will help students use compound nouns in their writing. Fun and engaging compound word puzzles break up the informational slides about closed compounds, open compounds, and hyphenated compounds. Students will learn the difference between the three types of compound words, and basic rules about when to use each type. Special attention is given to when and when not to use a hyphen. Review and check test at the end with answer key. 27 slides.

©2017 HappyEdugator.
Read more
About this resource
Info
Created: May 30, 2017
Updated: Feb 22, 2018