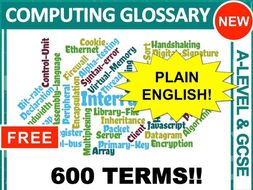 Computing Glossary (GCSE & A-Level)
More than 600 computing terms explained in Plain English and designed to be used as exam answers - many of the definitions are based on the mark schemes of past papers. There is one file for A4 printing, one for an A5 booklet and a third, editable file, which you or your students can personalise.
An excellent reference; it will certainly be a useful addition to any resource that you already have.
Read more