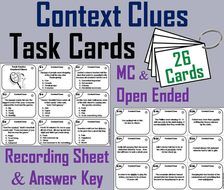 Context Clues Task Cards
Context Clues: These context clues task cards are a great way for students to have fun while improving their comprehension skills and vocabulary.

This activity has students reading various sentences to each other, 26 in total, and then asked to identify the correct definition for the underlined word in the sentence. An answer sheet and an answer key are included.
Read more