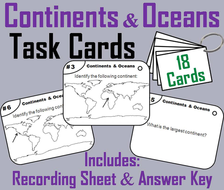 Continents and Oceans Task Cards
These task cards are a great way for students to practice their skills with identifying the continents and oceans.

In this activity students are to identify each of the seven continents and five oceans as shown within a map of the world. Other questions are included such as: what continent is the largest?
Read more