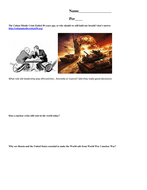 Cuban Missile Crisis Powerpoint and Webquest
Attached is a Powerpoint, links to videos and a webquest on the Cuban missile crisis and future of nuclear war. This webquest has students explore the threat of nuclear war during the cold war era in conjunction with the threat today and how countries are attempting to keep nuclear weapons out of the hands of Terrorists.
*Technology is needed for this assignment.
Read more