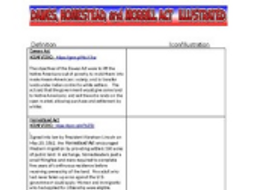 Dawes, Homestead and Morrill Acts Illustrated
TIMER SAVER for covering these three Reconstruction Acts. This assignment comes with 3 video links that illustrate how to create easy to remember icons for each one of these acts. YOU WILL LOVE THE CUTE MEMORY TECHNIQUES! Students remember best after sketching images of their learning. The definitions of each act are on the worksheet. Students can work independently or you can watch the videos to teach yourself how to illustrate this lesson while your students follow you.

Finally, students critically think by putting all three acts on the triple venn diagram to compare and contrast each act.
Read more