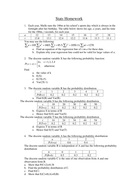 DRV & Regression
A tricky HW sheet includes DRV work and regression work. AP statistic standard #5.0 real world examples
This resource is designed for US teachers. View UK version .
Categories & Grades
Other resources by this author
GCSE Solving simultaneous equations using a graphical method. This worksheet only has straight line graphs. No curves. I haven't put numbers on the...
Tristanjones
Need to spice up this rather dry topic. For this dot to dot have students join question number to answer, e.g. Q1 find 10% of 80 so join 1 to 8. Yo...
Tristanjones
We all know how long it can take students to draw pie charts. This worksheet at least allows them to save time on drawing a tables and a circle. Th...
Tristanjones
Popular paid resources
The pupils have to tally red, blue, green and yellow cars as they fly past in the presentation. This has proved a popular resource at both schools ...
Smeths
I created this code breaking maths lesson for an Ofsted observation. The children thoroughly enjoyed it and had so much fun (whilst still learning)...
jodieclayton
Featured in the TES Newsletter. Adventure game in which students answer probability questions in order to rescue a princess. PLEASE REVIEW / COMMEN...
kmbheck
Updated resources
This converts the classic game Cluedo into three maths lessons. The aim for the children is to find out the location, weapon and the murderer by so...
harris_jane123
Introduce your students to probability. Teach them to find prbability on number line.
Teachers_choice12