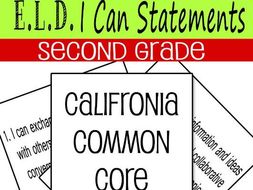 EDL I CAN Statements Second Grade California Common Core Standards
I created these to post in my classroom while I am teaching ELD. On some pages there will be 2 or 3 I can statements depending on the length of the statements. You will notice that there are variations of the same standard, that is because there are 3 levels per standard, so I tried to include all three stages.

I hope you find these useful.
Read more