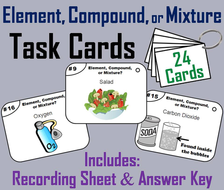 Elements Compounds Mixtures Task Cards
These task cards are a great way for students to practice their skills identifying different types of elements compounds and mixtures.

This product contains 24 cards with different pictures, students must identify each as either an element, compound, or mixture. A recording sheet and an answer key are included. Blank cards are also included for questions to be added, if wanted.
Read more