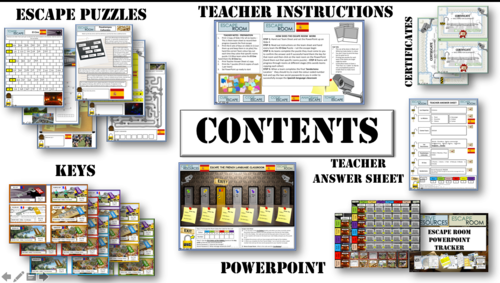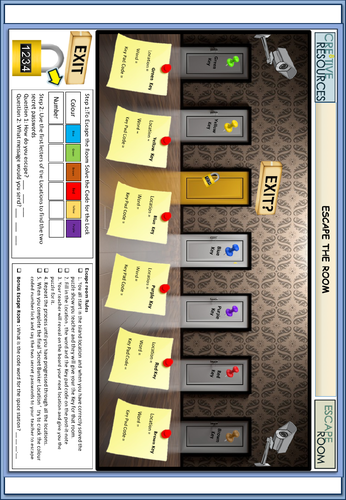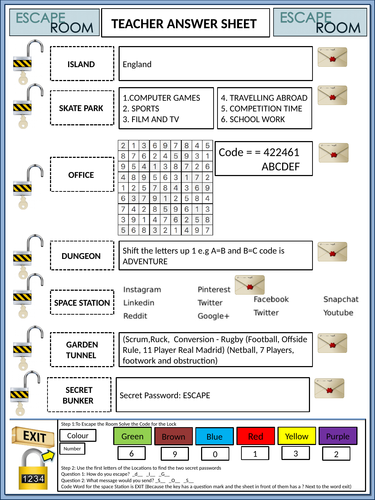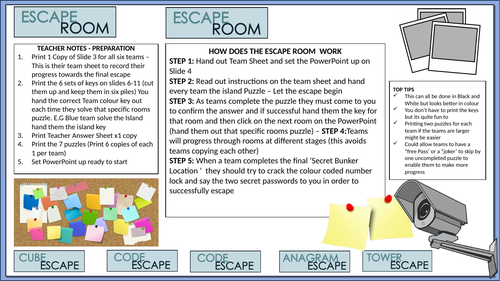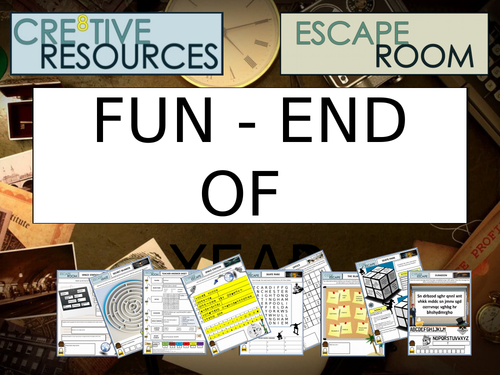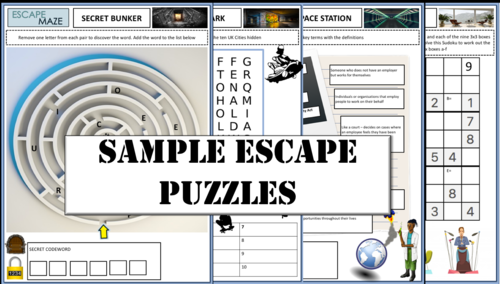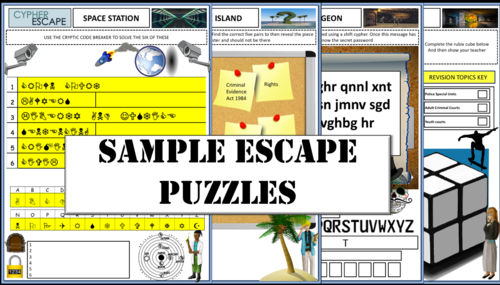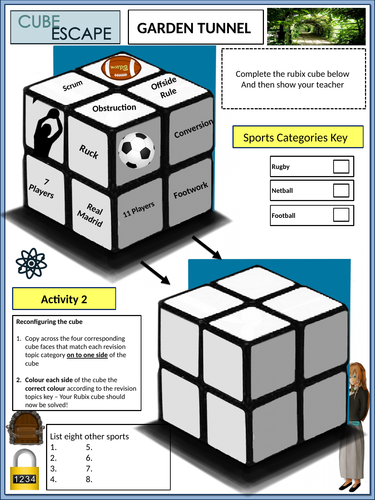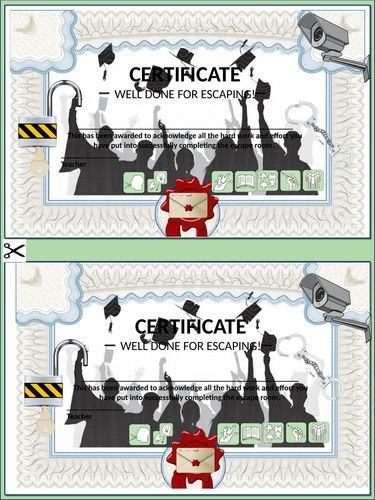 Brand New End of Term Escape Room - End of Year Virtual Escape Room by Cre8tive Resources! This lasts an hour or under depending on how quick the teams can solve each puzzle! Students love this style of lesson, great as an educational treat for your class. C8/ES/09
Product Contents:
☞ Escape Room Interactive Tracker PowerPoint - Keeps the competitive nature on display
☞ Escape Room Puzzle Keys (Six Sets for Six Teams)
☞ Escape Room Team sheet - Record codes, answers clues as they progress through the 7 rooms
☞ Escape Room Puzzles (7 Rooms = 7 Different styles of Puzzles involving numeracy, literacy and lateral thinking)
☞ Teacher Answer Sheet - Quickly confirm to teams they have solved the puzzle correctly
☞ TEacher instructions of how to set up the escape room and what to print and top tips and shortcuts.
☞ Successful Escape Certificates for those that complete the entire challenge (There is a difficult bonus escape too :) for any quick teams
✿ The 7 Rooms include: Secret Bunker, Space Station, Garden Tunnel, The Office, Dungeon, The Island, Skate Park (Each Puzzle has been adapted to suit the topic of this Escape Room (this one is very general and fun!) and is suitable to KS3 and KS4 Student or even bright KS2 students.
Our Philosophy
✿ We aim to help you equip students with the knowledge and skills to take ownership of their own learning. Our Citizenship and PSHE 2020 Products come 'Ready-to-Teach' with everything you need to teach fun and creative lessons. Our products are teacher-designed, classroom tested & student approved.
✰✰✰✰✰✰✰✰✰✰✰✰✰✰✰✰✰✰✰✰✰✰✰✰✰✰✰✰✰✰✰✰✰✰✰✰✰✰✰✰✰✰✰✰
Why not try out one of our other fantastic Escape Rooms
⇨ English and Language Digital Escape Room
⇨ Dr. Jekyll and Mr. Hyde Digital Escape Room
⇨ Big Fun End of Term Digital Escape Room
⇨ PSHE and Form Time Escape Room
⇨ Careers Digital Escape Room
⇨ Drama and Performance Digital Escape Room
JUST PRINT AND GO!
They can also be used to encourage a flipped learning environment.
Be PSHE 2020 Ready with our Cre8tive Curriculum resources!
⇨ Join our Facebook group of nearly 1,000 Primary and Secondary PSHE Teachers and School Leaders here
⇨ Or join our Citizenship and British Values Facebook Group here
⇨ And visit our Website for more great offers, free products and a basket facility
Tes paid licenceHow can I reuse this?
Something went wrong, please try again later.
Very good resource my students love it. I would love if you could make one for public services I.E POLICE, FIRE ARMY ETC. also could you confirm how the answer for island is England ?
Hi can you confirm the code at the end? On the answer sheet it is 069132, but if I go with the keys it is 690132, am I missing something? I am guessing it is a mistake? Also can you confirm the answers to Garden Tunnel, Rugby- Ruck, conversion, Football-Real Madrid, 11 players, footwork, Netball- 7 players, obstruction, offside. Once I use it will give you more feed back
A brilliant escape room - if I was going to be nit-picky I'd say there were a few too many sports puzzles for a general knowledge theme - however - saying that they all really enjoyed it and it was a great way to end the term.
Report this resourceto let us know if it violates our terms and conditions.
Our customer service team will review your report and will be in touch.