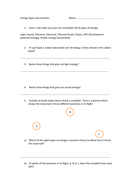 Energy types and transfers test
15 questions on energy transfers involving a wide variety of different situations. Suitable for KS3, Common entrance and middle school energy topics. Pupils are required to give one word answers and draw the answers for some questions.
About this resource
Info
Created: Jan 19, 2017
Updated: May 4, 2017
Get this resource as part of a bundle and save up to 39%
Other resources by this author
With sections covering all the forces in the title which start off easily and get slowly harder this is a short answer test paper which also includ...
Hoppersphysics
Covering the key points for the Common entrance, KS 3 and middle school circuits work with circuit symbols, truth tables current in series and para...
Hoppersphysics
Internet research questions to go with Key stage 3, common entrance and middle school work on Light. This covers the electromagnetic spectrum, lens...
Hoppersphysics
Popular paid resources
**This resource has been recommended by the TES Resource Team** *UPDATED AUGUST 2017* Added a crossword puzzle with answers. This resource pack wil...
sciencecorner
8 slide fill-in presentation / sheets on the 3 topics that make up Physics Paper (for the AQA Combined Science, so no lenses, transformers, etc at ...
jeroenvanos
A worksheet ideal for the first lesson on magnets. Includes field lines, magnetic and non magnetic materials and key words.
hopephilippa
Updated resources
This resource is a lesson and related activities covering the current PD graphs section of the new 2016 AQA Physics specification. This resource in...
chalky1234567
20% OFF SALE LIMITED TIME ONLY This pack contains tracking sheets for students in KS4 who are on the 2018 AQA GCSE Combined Science: Trilogy pathwa...
ranw123
This pack contains tracking sheets for students in KS4 who are on the 2018 AQA GCSE Separate Science pathways: GCSE Biology, GCSE Chemistry and GCS...
ranw123