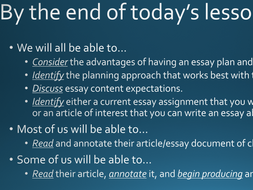 Essay Planning Presentation and Worksheet
This activity is to help students identify which planning method works best for them when they are writing an essay. More traditional ways, such as outlines are addressed, as well as more visual ways such as mind mapping and graphic organizers. Additionally, the TEXI paragraph structure strategy is included. Depending on your student's skill level, this lesson can take anywhere from half an hour to an hour and a half.

This pack includes an assignment sheet for the students as well as a PowerPoint presentation. You or the students will need to provide an essay that they need to produce a plan for.
Read more