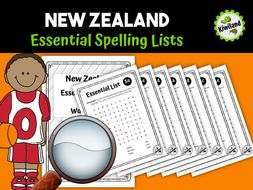 Essential Spelling List Word Search Find New Zealand NZ
This resource contains Essential Spelling Lists 1-7 for New Zealand Students. Each spelling word search contains 10 random words from the same list for your students to find.
These Essential Spelling List word searches are prefect to supplement your spelling program either in class or sent home with the student's homework.
The word searches are in a 10 x 10 grid and on A4 sized paper. I have done this so that they are easy to use for little hands, but I have designed them to be shrunken down to A5 size as well if you wish
Read more