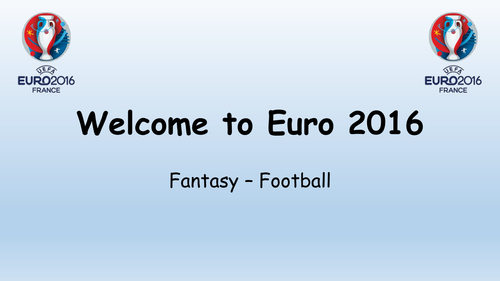 An interactive excel file that allows classes of pupils to choose a set of teams for the Euro 2016 competition, throughout the tournament the scores can be entered and the leader of the class fantasy league seen.

This allows introduction to using excel, using data entry and simple formulas.
Can be run by the teacher - or with older children ( yr 5 - 6) by them using a spread sheet programme.

Could also be a starter for using Powerpoint - what works well? What would you have changed?

Creative Commons "Attribution"
Something went wrong, please try again later.
I've really enjoyed using your resources in the past with my class.<br /> I was trying to update this for the upcoming delayed Euro 2020 but couldn't find how to make the spreadsheet work once the country names changed. Is there an easy way to do this or do you already have an updated version to release? Many thanks
Great idea for maths and also computing. My Year 6s are loving it and we start every maths lesson by updating our scores.<br /> <br /> I think I may have spotted a tiny issue though with the spreadsheet. It's 10 points extra if they reach the next round I believe? Where does the excel grid calculate this? <br /> <br /> I've noticed that a win in the knockout stages automatically adds on 10 points instead of 5? Is this something which can be changed easily?<br /> <br /> The kids have been correct with their calculations until today and I think this may have been why theirs didn't correlate to the excel grid anymore.
Fab. Thank you!
I'm loving this resource and have used ones like it before.<br /> Please tell me what we need to enter to choose Northern Ireland as it's rejecting attempts as errors.<br /> Cheers.
Thank you for publishing your resource. This resource has been chosen to be featured in a TES Resources blog post.
Report this resourceto let us know if it violates our terms and conditions.
Our customer service team will review your report and will be in touch.