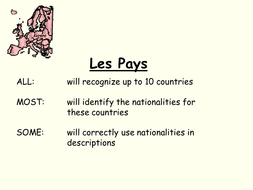 European Countries and Nationalities (French)
Introduction to 10 European countries and nationalities. Includes slides to use as handout.
About this resource
Info
Created: May 19, 2011
Updated: Aug 19, 2015
This resource is designed for US teachers. View UK version .
Other resources by this author
Lesson activities and worksheet about Easter vocabulary in French, made for Primary school level/low ability Key Stage 3. The resource includes a p...
shropshire14
This resource, aimed at KS3 Spanish students, recaps the near future in the context of new year's resolutions. Introduces 12 new year's resolutions...
shropshire14
This resource teaches the names of ten wild animals (les animaux sauvages) in French. The resource is aimed at KS1 and KS2 students. The resource i...
shropshire14
Popular paid resources
PowerPoint and accompanying workpack designed to encourage pupils to use a variety of complex structures in their spoken and written French. An ext...
maryjane1969
This is a lesson I produced for my Lower Sixth to introduce the subjunctive. There is a worksheet to accompany the presentation with a fairly compr...
maryjane1969
Print out the cards and laminate them. Pupils work in pairs or small groups and race against each other to form the perfect tense with the cards af...
maryjane1969
New resources
Quiz sur Noel : multiple choice exercise on the topic of Christmas
Zoe2007
Powerpoint slides and worksheets introducing and practising language to discuss helping marginalised people in society. There are links to five rel...
lucyday73
Quick printable to cut out, laminate and label: Rooms in a primary school Items in a classroom Raise the profile of French in your school by making...
naomifrench
Updated resources
Many students are not aware of the difference that acute and grave accents make to pronunciation. This resource was created to help remedy that. It...
ReallLanguages
This is an interactive (Hotpot) Activity to improve pupils' recognition of French nasal sounds. A multiple choice game played against the clock req...
ReallLanguages
This worksheet uses demonstrative adjectives (this, that, these, those) to distinguish between different items (masculine / feminine / singular / p...
vettyjames