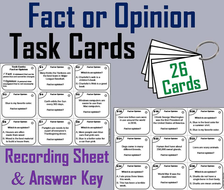 Fact and Opinion Task Cards
These fact or opinion task cards are a great way for students to have fun while learning the difference between fact and opinion.

This activity has students reading 26 statements to each other and then asked to either identify the statement as either fact or opinion or to identify the opinion when given two options. Explanations are also given for the more tricky statements. A recording sheet and an answer key are also included.
Read more