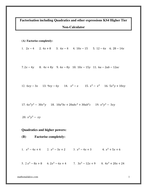 Factorisation Quadratics with answers
Factorisation of Quadratics and other expressions, includes applications, cubics, with solutions, write on, useful for 11th Grade. Factoring with answers
About this resource
Info
Created: Feb 23, 2012
Updated: Aug 19, 2015
This resource is designed for US teachers. View UK version .
Categories & Grades
Other resources by this author
Congruent triangles KS3 KS4 non-claculator. Includes examination style questions, some challenging questions. Includes areas of kite and rhombus, P...
hassan2008
Addition and subtraction of algebraic fractions, solving equations with algebraic fractions, includes many leading to solving quadratic equations b...
hassan2008
Expressing percentages as decimals and fractions and back. KS3KS4 (may be accessible to KS2 top end). Includes equivalent fractions, working out a ...
hassan2008
Popular paid resources
A self-contained game to be played in pairs. Use to revise reading coordinates on a grid. Best played once coordinates have already been introduced...
Miss-Becky
Recommended by TES Panel. An investigation which allows the learners to find the rules for transformations plus some example questions. PLEASE REVI...
kmbheck
Recommended by TES. There are 4 sets of questions (Number, Algebra, Shape, Data) which are mainly A and A* (with some lower grade questions from to...
kmbheck
New resources
Inspired by aap03102 and his excellent relays https://www.tes.com/teaching-resource/maths-relay-races-problem-solving-puzzles-6064073 I created thi...
whistleandsums
I give this to the students (printed in A4 or A5 depending on how much room they need) at the end of the lesson to assess an overview of the lesson...
brodieburton
A helpsheet showing worked examples of how to solve equations with unknowns on both sides using two approaches; balancing or change sides change si...
JamesCMartin
Updated resources
This is a whole lesson looking at forming and solving equations. It is specifically designed for more able classes who are looking to tackle some o...
ajf43
My best prediction for paper 2 AQA GCSE mtahs for 2018.
martinnewton
Inspired by some work shared @Maths_SNA i wanted to write a ppt to outline how we can use the bar method to solve equations. Seeing the resource wr...
Billyads_47