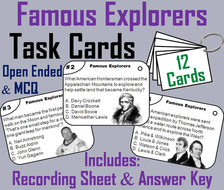 Famous Explorers Task Cards
These task cards are a great way for students to learn about the many Famous explorers.

This product contains 12 cards with multiple choice questions about the many famous explorers from around the world. A recording sheet and an answer key are included. Blank cards are also included for questions to be added, if wanted. The same 12 cards are also available in a non-multiple choice option as well.
Read more