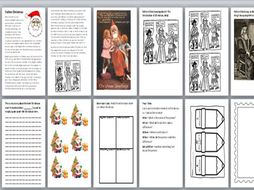 Father Christmas Handout
Father Christmas Handout with KWL activities 20 pages
Read more
Other resources by this author
Solve the message puzzle about the World Cup Pupils have to work out the quote - can cut and paste if you wish. Includes the answer and a coloring ...
sfy773
Henry George Blogg and the Royal National Lifeboat Institution (RNLI) Handout - 22 pages
sfy773
34 World Cup Teams Clip Art Pack
sfy773
Popular paid resources
Pages of reward stickers, each with a different World Cup 2018 slogan on which can be used to congratulate students on their effort, resilience, sk...
EC_Resources
New for Summer 2018! A 72 slide quiz that could be used as a fun activity in a final lesson or form tutor time towards the end of the summer term w...
BuzzQuizzes
World Cup 2018 Quiz and World Cup 2018 Reward Sticker Bank. Contains: World Cup 2018 Quiz. Some students LOVE the World Cup. Some couldn't care les...
EC_Resources
Updated resources
This informative and highly engaging resource is ideal for a whole school January assembly on the famous 'ploughman' poet from Scotland, Robert Bur...
Krazikas
This resource is a highly visual, fully editable and interactive, 100 question powerpoint end of year quiz. It is an ideal resource for an assembly...
Krazikas
The Russia Football World cup is here. Engage students with the FIFA Russia World Cup with these 5 colouring sheets. Students can decide which coun...
StartEducation